Systemic constellations is not exactly the first aid kit you bring into a war zone or a traumatic situation that is currently in flames. But if you have space and time to take a step back, there are some practices for peace and justice suggested by a systems thinking worldview. 
What to "do" with helplessness
When bombs are literally falling, it is hard to know what to "do" and many people come up against feelings of helplessness.
Systemically, feeling helpless is the place of the "smaller" one; in a family system it is the place of the child. Taking the place of the adult is to accept that there is currently no good move we can make. In some situations it is true that there is nothing we can do. At times like this the right move is to take our place in the powerlessness, to endure it without asking it to be different.
Powerlessness has a purpose, it has something it is trying to do. It is showing in what direction life is moving now. The more you can accept your own powerlessness, the more you can let go of old ways of being and acting that are no longer serving. From this place you can reemerge with new ways of being and new actions.
While we are in the place of powerlessness, we can also think about those who are disempowered and vulnerable, and if there is something we can do for them. To show our love and care in this way is no longer powerlessness, even if it does not change the situation directly.
Sending resourcing 
After donating what you can and sending messages of support to people you know personally, you can also send prayers and well wishes to the archetypal resources. It is a self-organizing principle that when you call on these resources, they know best where to direct the flow of wishes for safety and wellbeing.
For Ukraine many are now directing their prayers to Mokosh, the traditional and ancient goddess of the earth in that region and St Michael the Archangel, the winged protector of the sky.
How old is this war?
To see this war as part of a living system, we can trace back in time "where did it all begin?" What are the many conditions that led to this moment?
Stop the war within
You can also work with the way previous wars are still being played out within your own consciousness. Do you feel more connection with the perpetrators or of victims?
There are no wrong answers. We all carry both the conquerors and those who were conquered within our family system and within our consciousness. Are you able to look with equanimity at the victims? the aggressors? This can serve as a guide to who within our own consciousness is not yet at peace.
In almost every systemic constellations we see that excluding a person or group from a social system always has consequences. For this reason we should be paying extra attention to the way any one group is being excluded or vilified. We cannot hope to do the work of peace building if we cannot see each one involved in their dignity.
The process of systemic constellations was originally developed for looking at an individual's questions about their wellbeing and the world around them. To do this we look at the systems a person belongs to — families, geographies, organizations, societies, nations. This wider context shows new ways to bring healing and transformation for individuals. So as practitioners we couldn't help but wonder: can systemic constellations bring healing and transformation for society too?
This is my summary of learnings about social issue constellations inspired by the Awakening the Field conference held on February 19, 2022.
Organized by Jan Jacob Stam, Dees van de Hoef, and team, the Awakening the Field conference included fifteen systemic constellation processes on social issues:
Migration
Authoritarianism
Racism and slavery
Nature and environment
Climate change
Gender in a changing society
Corruption
Structural violence
Civic leadership
Female leadership
Healing after disasters like Fukoshima
Repressive social systems
The future of education
Indigenous wisdom
Fractal communities
The importance of acknowledging our place
One of the complexities when doing a systemic process about social issues is that we ourselves are not outside of the system we are attempting to see. This is true for facilitators, case bringers, and for participants.
What this means for facilitators
For facilitators it is harder to assume a space of objectivity that they may have when facilitating a topic for businesses, organizations, or family systems. It means that they are also subjected to the social currents they are looking at. This can show itself in the choices they make about how to set up a constellation, what the group focuses on, and the interventions suggested. It can also effect whether the facilitator has a bias to move the constellation to a "good" outcome.
What this means for case bringers
The case bringer is a person who is stepping forward as someone directly affected by the social issue. In the constellation we try to understand how the larger social current effects them; how the systemic principles are playing out; and what are the hidden dynamics. In a constellation we can see more clearly how this person is oppressed or empowered in the face of systemic dynamics. And we can see how they might be able to shift to have more strength, vitality, and effectiveness.  
What this means for participants
As we listen to a question brought by a case bringer and observe a constellation, Jan Jacob Stam suggests that all participants consider "from what place" we are listening.
Ways of listening

These are the three main ways of listening. Each corresponds to a different consciousness within a system.
1. Listening from a place of problem solving, looking for solutions, answers, and new ideas.
This is the default place that we likely all know well.
2. Listening from a place of finding "the good reasons" why things are the way they are.
If there is something happening currently that we do not like, chances are that something has been bound in the system for a long time. We look for the story behind the story, following the thread to trace why this current binding "makes perfect sense."
Jan Jacob often says:
"Change starts with accepting things exactly as they are."
He has since evolved this axiom to:
"Change starts with loving the world exactly as it is."
Where love makes it an active form of acceptance, rather than a passive one. This doesn't mean we love the hellishness that we see in the world; it means that we try to find the equanimity to trace the life force back upstream for where the hellishness began.
3. Listening from a place of not knowing.
In the practice of Social Presencing Theater, Arawana Hayahi calls this place of stillness "the Ma," the gap where it looks and feels like nothing is happening. This stillness is the place from which a "True Move" can come.
When listening from this place we may perceive that something is coming to an end or something new is starting to emerge. This is the place from which a system starts to reorganize itself spontaneously.
How systemic constellations for a social issue are set up
There are three main ways to begin a process:
1. One case bringer puts forward their concern or question about a social issue; representatives are determined by a dialogue between the facilitator and case bringer.
2. One case bringer introduces their concern or question, but it is on behalf of a wider collective. They are invited to enlarge their own system and consider on behalf of how many they are bringing the question. After they introduce the topic, participants in the group are invited to add to the question of the case bringer.
The representatives are determined by a dialogue with the facilitator, the case bringer, and those in the group who have added to the question. 
3. All participants in the group are asked "which topics are in the air," where each participant is a representative of society in the moment. The full group in this way develops a set of questions, which are then narrowed down.
Some of these methods have been developed to mitigate the fact that we all are part of the system we are exploring. 
Example of constellating an individual's relationship to a social issue: Gender
As part of the conference, Elena Vesalago facilitated a constellation on the changing meaning of gender in society. She pointed out that there have been major changes in the last decades with regard to how gender is held — what it means to be a woman; what it means to be a man. It varies greatly by country and region and for example in the United States language is also adapting. In businesses, schools, and government, it is becoming more widely accepted to self-select your preferred gender pronouns. In other regions these changes show up differently and are constrained by comparison; there may be more or less tolerance for homosexuality for example. The goal of a systemic process is not to change these social norms per se, but to illuminate how they operate. 
Elena guided the group through a process where each person  explored how the changing field of Maleness and Femaleness affected them.
Step 1: Acknowledgement
This was done as a full group exercise, where she placed two objects: one representing the Field of Men and one representing the Field of Women.
Participants we were asked to look at the object representing the Field of Men. As we looked, we were asked to connect in a reflective way and feel into the ways we have been influenced by the Field of Men. This is not the chromosomal definition of sex, but everything that it means in society to be a man; the cultural story of maleness.
Similarly we were then guided to look at the object representing the Field of Women and sense in to the ways we have been influenced by the Field of Women. As part of the looking, we connected with all of the ways these influences may have been difficult or limiting.
In my own experience, as I looked at the Women representative, I had a kind of affection and familiarity with this representative. And was aware that I know very well how to behave in a womanly way. I had used this knowledge in life and it serves me in many ways. As I looked towards the object representing the field of Men, I could see how this field also influences me as a women. It lit up a network of internally held things "you just know" about this field, spoken and unspoken. I know how to be seen as though I am behaving, dressing, or acting like a man, and connected with how I unconsciously calibrate accordingly.
I also saw how belonging to the field of Women can in some ways be a source of tension – the expectations, the experiences of ridicule when you do not conform. It was a chance to feel into how "what it means to be a woman" can in some ways be contrary to my being; to how life wants to live through me.
Elena pointed out that in some cases belonging to the field of Womanhood or Manhood might be so difficult that a person wants to deny what the influences are saying or deny the body in some way. In systems, we know that denying does not allow for movement and so as a next step, suggested a form of acknowledgement to see if that would allow for movement.
Step 2: Allowing what is
It was suggested to simply look at these representatives for Maleness and Femaleness and find an inner stance of:
"I agree with how Femaleness influences me."
And:
"I agree with how Maleness influences me."
The acknowledgement and the "agreeing to what is" is seen is an important step and is itself a systemic intervention. We hold back on the impulse to reconcile or find a better solution. By staying with acknowledgement and seeing, we can more fully process the parts of ourselves that were denying the influences or fighting against them.
Step 3: Allowing what is emerging
A few moments later, as the process continued we ventured to a place beyond accepting or denying, where a new movement is possible.
As a next step, Elena suggests that we look at the representatives for Femaleness and Maleness to see if it's possible to "free up some space to be a woman or a man in a new way."
For myself, I imagined a sphere around me, a new zone of possibility. This is the place where some part of me could unfurl to be a woman "in a new way — and in a way that no one else has ever been done before."
As we did, Elena pointed out that there is often a feeling of guilt because we feel that we are leaving something important behind. These are the tendrils of connection with the people and the social norms that were formative for us. They literally created our sense of who we are.
She points out that there is almost always loneliness in doing so too, because to do something new always means we are alone for a short or long period of time.
The process concluded with embodying new futures, where we stand in the new place and hold that sooner or later, others will join us there, who may have also gone on a similar journey. They may have also found a new internal stance of "I am done fighting" with the tensions of not fitting into old paradigms so that they can be and love with fullness and ease.
An architecture for reconciliation and embodying new futures
This process that Elena facilitated showed an architecture of acknowledgement and reconciliation that can be used for leaving old worlds behind and stepping into new worlds. Importantly, it showed the restraint needed in not rushing to conclusions or solutions. When we do, we miss the opportunity for the system to reorganize, and for a more complete and thorough reconsolidation.
Even though I am relatively at ease with the gender norms of my society, I was surprised to find myself living in a slightly new world after the process. I got in touch with my own places of tension in relating to Femaleness and Maleness, for example the elaborate unwritten expectations on how to express my feminity. The night following the process my dreams were actively processing the material, replaying peak experiences of femaleness throughout my life. In the days that followed I felt a lightness and confidence that was physical and emotional, familar after effects of systemic "a-ha" moments.
In psychology this is called memory reconsolidation. In systems thinking this is the system reorganizing itself. In activism this is "the more beautiful world we know is possible."
Example of constellating a social issue itself: Corruption
In the gender process, the goal was to look at an individual's relationship to a larger social phenomena. It is also possible to do a constellation to explore the nature of the social issue itself.
What is different about this is that there is not a single case bringer. In a sense the full group is bringing the case and the object of our inquiry is to see the "flow" of systemic principles are playing out on a macro level.
Bashar Al Safadi and Iman Mandour presented on how corruption can be seen from a systems thinking perspective. 
They pointed out that if we look from the standpoint that corruption operates like any living systems, it is also a self-regulating mechanism. It is operating in response to other parts of societal systems that may no longer be working. 
Bashar and Iman guided the group through a series of questions to start unpacking "what is corruption trying to do?" 
The first question was:
"In your country, what do you call corruption?" 
Corruption may typically live in the shadows, but by naming it, we start to locate it in society. These were some of the common names for corruption named by the group. 
Within any social system, the members know what they need to do in order to belong. They know both the implicit and explicit rules. Corruption exists in the space where some members go outside of the established laws and societal agreements, taking the risk of no longer belonging to the system. Rebelling and breaking laws is one way that systems evolve into something new.  
Some questions they suggested on the systemic nature of corruption:
What is corruption a solution for?
What new or parallel systems are created by corruption?
Who or what wants to be seen?
Who or what has been forgotten?
Who pays the price for going outside the established laws and societal agreements? Who pays the price for staying?
Who is taking and who is giving something away?
Who are the victims protected by corruption? The perpetrators protected by corruption?
What is positive about corruption?
These questions alone were very provocative and brought a wider consciousness to a topic that can be hard to look at, as the common response is to blindly try to push it out or exclude it.
Does this mean we have we found a way to change systems?
This is a fair question. After all, we see how family and organizational systems are able to significantly shift, so why not transform oppressive social constructs? Why not reprogram the codes on the central server of society to be more just, compassionate, and equitable?
I do believe systemic constellations demonstrate a way to change systems for the better, but not in the way you might be hoping for.
We may think we are skillfull enough to reprogram the code on the central servers, but that is our hubris. We may know one programming language, but the fact is there are many more programming languages out there that we do not know yet.
Nature is the best teacher about systemic principles
This is where we again need to come back to acknowledging our place in a system and our own human size and limited perspective. It can be hard to wrap our heads around this, but looking at the living system of nature can help. For example, step into a worldview where there is an important river you live near that connects all of the main travel and trade routes. If you are indigenous to the Connecticut River valley, you call this area the "Place of long water," and because you identify yourself and your own life with the river, you use the same name for your own people as the river. The people belong to the river. This is a form of naming that acknowledges humans' more accurate place in the system. In the western worldview, we have it systemically upside down, where rivers and geographical regions are named after humans.    
When considering "what can we do" to change systems, there is enormous opportunity in the way that systems are self-organizing and self-regulating. Does the social field of "Maleness" and "Femaleness" shift and evolve as we do? Does the field "Corruption" ease up because a group of people shined a light of awareness on it? We cannot really know. It is a better use of our own human-scale life force to put our efforts towards looking for the way patterns operate in ourselves and in social fields. Once we find the pattern and align with "why it makes perfect sense," the re-organization is spontaneous and much larger than any one person or group could do alone.
So we are back to the best way to "change the system" is to reprogram the way the system is running within us. Each person can reliably and readily shift the injustice, the perpetrators, the victims who have not been acknowledged, the exploiters within us. When we do, we find ourselves in a new position with less oppression, more justice, compassion, and equity in our actions, and our society starts to look very differently than it does today.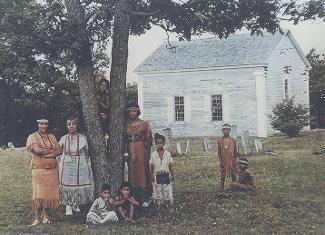 I have been curious to find stories from the early days of encounters between Natives and settlers from the early days around Cape Cod, from the moment when two worldviews met, to see what was in the air in the moment before one assumed dominance over the other. I have been following the story of Richard Bourne who lived in my hometown of Sandwich and was an early minister and missionary to the Wampanoag people. He helped to establish the neighboring town of Mashpee and was frequently called upon as the arbitrator when it came to land deeds and to drawing the first borders around Sandwich and Barnstable. The intention of the settlers was to recreate as closely as possible the English-style towns they left and to gather Natives willing to convert to Christianity into "Praying Towns" led by Native converts under colonial jurisdiction. Bourne spoke some Wampanoag language and is credited with translating the Lord's Prayer into Wampanoag.
This detail piqued my interest, as learning a language requires relationship and a strong desire to communicate and to be understood. Who was teaching Bourne the Wampanoag language? And what were those first communications like with the ones he was learning from? I can hardly imagine the many hours spent of mistakes, misunderstanding, and then understanding.
After the Lord's Prayer, the English Bible was translated into Algonquin and printed at the press at the Harvard Indian College in 1663. It is known by the name of the missionary who oversaw the project, John Eliot.
In a
discussion with historians Barry O'Connell and Lisa Brooks
, they talk about how as Europeans moved westward across Turtle Island, there was a series bibles translated into local languages. Each edition attributes the translation to an English or European minister. However it was most certainly Native people who did the work of translation. In most cases, the ministers named did not have the fluency to be able to translate. North America at the time was multi-lingual, multi-ethnic, and trans-national. In the Northeast region there were many languages before the English arrived that were very different from each other, for example Abanaki and Mohawk languages. There were always some people identified in the tribes who were particularly adept at learning languages.
Lisa Brooks points out that the Eliot Bible project gained momentum when James the Printer, the Nipmuc man who ran the printing press at the Harvard Indian College, and 4 or 5 of his Native companions became involved in the translation.
The other sign that makes it clear it was Natives who translated is the way they brought to the text their own way of seeing the world. Translation is never direct letter for letter. The indigenous worldview is infused throughout the translated version, and the Algonquin spiritual cosmology speaks through it. It contains points of view that Puritan ministers at the time would have found blasphemous to their cultural worldview.
One example Lisa Brooks gives is that in the Psalter, "My God" is translated as "Num-Manittoom," where "Manittoom" is the animating spirit that flows through all things. It is the life force itself. There is no concept in Algonquin of good and evil, heaven or hell, and so this life force is one that has the potential for both creation and destruction. And Manittoom has the pronoun "Num," "my dearly beloved," where "my" is relational and not possessive. There is no way to talk about a divine power that was only externalized. In these two words we can understand that there is a personal relationship to the life force that runs through everything.
This is the worldview that has long been woven in to the landscape of the Northeast, still multi-lingual, multi-ethnic, and trans-national. These worldviews are well supported to be reincorporated into our society and the way we live in this place today.
The Wampanoag language of Cape Cod and the Northeast US had been known as a "sleeping language," with no native speakers for the last 100 years.
Through the Wopanaak Language Reclamation Project, linguists and teachers are building connections to reconstitute the grammar and pronunciation through closely related languages like Blackfeet, Cree, Ojibwe, Passamaquoddy, and Sauk that are still spoken.
There is now at least one very young native speaker, with many more to come. This means we can most definitely re-thread a fabric of memory that has been frayed and re-enlived what looked to be sleeping.
The universe is said to have a direction where it is heading. Roger Penrose, Nobel laureate in physics, has done the math on where that is.
Rupert Sheldrake and Mark Vernon discuss:
SHELDRAKE:
Roger Penrose in his latest theory about cosmology, is that the entire universe goes on expanding faster and faster, until all the matter evaporates into light. And that the universe ends when everything is dissolved into light.
It's the opposite of the contracting universe cosmology which was fashionable until about the year 2000. People thought that because of all of the dark matter, and mass in the universe, the expansion of the universe would slow down. It would stop expanding and begin to contract faster and faster, until it all imploded into a terminal black hole. So in that vision, everything ended in darkness.
In Penrose's vision, everything ends in light. Fortunately we are poised somewhere in between the two at the moment.
It is interesting that in his cosmological vision everything dissolves in light. Which then, he says, gives rise to a new universe. By a kind of mathematical slight of hand he suddenly says, Well if its all light and it has no dimensions, then you might as well contract it by thousands of orders of magnitude until it just becomes a Big Bang and starts another universe. That is, I think, slightly fanciful, but it's interesting that his cosmology is the entire cosmos transformed into light.
VERNON:
The way I read his explanation of a transition from a massively expanded cosmos where all is light to the beginning of something new is that:
When everything becomes light, not only does time disappear, because light exists in eternity, in timelessness — but also space disappears for the same reasons. Traveling at the speed of light, light does not know dimensions. And so you move towards a cosmos where there is no space, no time, and that is like the aboriginal seed bed, the source, the origin, for a new cosmos. Out of nothing, literally; a reality where there is no space or time, outside of eternity.
One way to start creolizing the new world of our dreams.
"If another world is possible, as activists and scholars frequently assert, what might it look, taste, and feel like? An Ecotopian Lexicon presents a kaleidoscopic window into the ecological multiverse: not what is, but what could or even should be." via Atmos magazine.